Candied Sweet Potatoes

6 medium sweet potatoes
1 cup white sugar
1 cup brown sugar
2 T flour or corn starch
1 cup water
½ stick of butter
1 tsp. vanilla
½ tsp. nutmeg

Place potatoes in large pot and cover with cold water. Boil in peels until tender (about an hour). Remove potatoes from water and place in colander under cold water to help cool.

When potatoes are cool enough to handle, remove peels and cut into 1" thick slices and place in a 9x13 pan. Preheat oven to 350 degrees.

Mix remaining ingredients in a saucepan and bring to a boil over medium heat stirring consistently. Pour over potato slices and bake for 30 minutes.







Online Store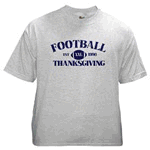 Gift Ideas
Turkey Bowl Gear