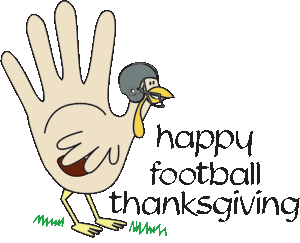 What is Football Thanksgiving?

Football Thanksgiving is a celebration of the return of the National Football League on the first Sunday of the regular season. We know all true NFL football fans treasure this day, so time to reconcile with your draft picks, forget preseason and have a party to celebrate and give thanks for the return of America's Game! And for the football widows out there, maybe the party will give you something to look forward to.

If you enjoy football, we hope you will make Football Thanksgiving a tradition in your home. We will continue to provide updates and celebration ideas as this year's event approaches. If you'd like to keep up to date on the preparations including Football Thanksgiving recipes and celebration ideas, please join our email list and let us know your favorite team.
Mark your calendars! This year's celebration is on Sunday, September 13.

In the meantime, you can buy official Football Thanksgiving merchandise, including Football Thanksgiving cards and football party invitations in our store, visit our guestbook and share your game day traditions and celebration ideas or visit our sponsors to find unique products for every football fan.

If you like our logo and would like to purchase products for your Thanksgiving Day Football events like family Turkey Bowls, visit the Turkey Bowl section of our store.